In this episode Dan Weiss, President of adatasol custom database solutions, entrepreneur, and father of 6 Explains 3 Steps to Remove the Bottlenecks in your Company's Workflow! After the tip, we go backstage to learn about, Thinking the Macro Way, Being Humble with Swagger, Taxi-ing Around and more!
My name is Dan Weiss, president of Adatasol Custom Database Solutions, and I'll be speaking about three steps to remove the bottlenecks in your business' workflow.
An example of bottlenecks would be too much information in too many places. You might have your sales leads in one place, your company contacts in another, and project information in a whole other place.
The bottleneck is caused because you have the data in those different places and you literally have to copy it from place to place. You can imagine the productivity lost between copying the data from place to place, and what also often happens is a loss of data. There's a huge problem with data loss between copying that lead, that sales lead. Once they become a company, well, what happens if you forget to copy part of the address, for example? Now you've got the address in two different places. That's a perfect example of all of a sudden you have data that's messed up between two different locations.
The first step is organizing your information into definable pieces. Classic example would be having your sales leads and then having customers and then having projects and then having invoices, as an example, and trying to figure out, "Well, this piece links to this piece, links to this piece, links to this piece, ideally."
The second step is figuring out what is that exact relationship. How does the information relate together? It's really a matter of saying, "How does a sales lead, in my example, have you uniqueness between the sales lead and the customer, and then a customer that becomes multiple projects, and those become multiple invoices?" Really, it's a matter of saying, "Well, we have a unique ID between those records, that information, and defining those as unique pieces."
The third step is to find a tool that's gonna allow you to create something to link all this information together easily. Luckily, in our world today we have tools on the Internet that are available and we have tools like FileMaker, the one that we tend to use a lot, that allow people, end users, to develop tools to do these things themselves.
An ideal situation would be one where they've had a 10 to one savings, something that took 10 days or 10 hours or 10 minutes is now taking one.
If you follow these steps, you've got an enlightened workforce that is using an accessible tool with centralized information.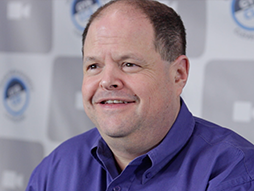 Dan Weiss
As President of Adatasol, Dan Weiss utilized FileMaker to quickly create solutions for clients by providing levels of ROI. Dan attended the Goldman Sach's 10,000 Small Businesses program and scaled up Adatasol to become the largest FileMaker developer in the Mid-West.
Click here to find out more about Dan Weiss
Behind the Scenes: The Intern Production Team






Olivia Terry
John Carroll University
Communications Student
Meghan Doherty
Ohio University
Media & Social Change Student
Hana Ibrahim
John Carroll University
Professional Writing Student
Sa'diyah Black
Kent State University
Electronic Media Student
Danielle Doss
Notre Dame College
Communications Student
Jesse Brunner
Cleveland State University
Film & Digital Media Student