In this episode Drew Schwanitz Entrepreneur Marketing Consultant Communications expert shares 3 Ways to Improve Your onsite Search Engine Optimization! After the tip, we go backstage and learn about Drew's, Podcast Pick- TGIM, Getting Lost in Nature, A Daily Philosophy, and more!
My name is Drew Schwanitz, and I am with Torva Local. My tip today is three ways to improve your onsite search engine optimization. Today, I'm going to talk about a few techniques that you can use on your website to improve your search rankings.
Tip number one is to create great quality content. Content is the main reason someone will go to your website. As a result, search engines take notice of this, so the best content gets the best search engine rankings. One way you can take advantage of this is to look at some of your competitors' content. Look at other people that share the same audience as you and see what they're writing about, and do it better. Go a little bit deeper, be more informational, be more insightful, be more helpful. Your goal is to be the thought leader, the industry leader, on that particular subject.
Tip number two is to speak their language. It's important that you understand your audience, and that you're optimizing your website to the way that they are going to search for your posts and your information. Whether they're searching for technical terms, or maybe they're searching using slang terms, it's important to know that and include it within your content. Once you discover the keywords that you want to focus on, it's important to keep your primary keyword and your secondary keyword in your title tag and your URL. It's also good to keep in mind, when you're creating your posts, to also think about associative keywords. What that means is different words that have the same meaning.
Tip number three is to make sure that your content is shareable. Search engines consider quality outside links to your website as validation. It's important to keep in mind that your URL is descriptive, and by this I mean people understand what your content is about just by reading the URL. Another important thing to keep in mind is to include social links on your posts, as well. This will make it easier for people to share your content after they read it. And most importantly, there must be sharing value. In order for someone to share your content, there must be something in it for them, as well. Does it make them look smarter? Does it make them look helpful or funny? Any of these things will be an incentive for them to share your content.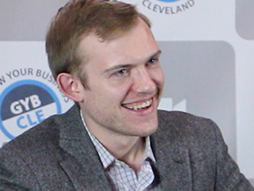 Drew Schwanitz
Drew Shwanitz is the founder of Torva Local, a company that helps small local businesses find their voice online and target potential customers across the top local directories and social media by building out completed online profiles as well as keeping them updated with fresh new content.
Click here to find out more about Drew Schwanitz
Behind the Scenes: The Intern Production Team






Olivia Terry
John Carroll University
Communications Student
Meghan Doherty
Ohio University
Media & Social Change Student
Hana Ibrahim
John Carroll University
Professional Writing Student
Sa'diyah Black
Kent State University
Electronic Media Student
Danielle Doss
Notre Dame College
Communications Student
Jesse Brunner
Cleveland State University
Film & Digital Media Student