Have you ever been overwhelmed in creating your business' marketing strategy? Do you really need fifty pages outlining your market research? Liz Hersh of Hersh PR & Marketing breaks down the must-haves for your marketing strategy so you only end up with the essentials and create the marketing plan you truly need to grow your business.
I'm Liz Hersh from Hersh PR & Marketing and I'm going to talk about the 5 must-haves of your marketing strategy. 
There are five things business owners should include in their marketing plan. The first one is specific and measurable goals. This can be in terms of a dollar amount or number of customers served in a given month or year. But they need to be specific and measurable. I like to use what's known as SMART goals. So again they're specific, you have a clear deadline and you know that you're getting results. 
The next thing business owners need to include in their marketing plan is key messages and being specific about what differentiates you from your competitor. In any given industry, there could be hundreds or thousands of competitors so you wanna be clear on what sets you apart. And this doesn't have to be super complicated, could be simple, like SouthWest: Bags Fly Free.
The third thing we recommend including in your marketing strategy are what we call buyer personas. These are detailed written descriptions of your best customer. So think about who your best customer is and create a little story around them: give them a name, where they live, how much money they make, some key characteristics, demographics and psychographics so that way you have a good sense of who your target message is trying to reach.
The next thing business owners need to do is commit to a specific set of marketing tactics. You have to keep in mind, again your key messages and who your best customers are. So if you're targeting teenagers, Twitter and Instagram would be a great place for you, but if you're targeting maybe a baby boomer, Facebook might be a better place for you.
The last thing business owners need to consider in their marketing strategy is their time line and their budget. We don't all have a million dollar budget so you have to ask yourself— is it realistic to double my sales in a week, a month, six months? Take a look at your budget, think about what's going to be realistic and what you can actually achieve. Adjust your goals as necessary but again and commit to the timeline. Do these campaigns and tactics on a consistent basis and then you'll start to see results.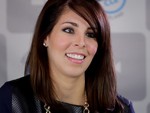 Liz Hersh
Liz founded Hersh PR and Marketing with the intent of helping small and medium-size companies market themselves more effectively. Liz's expertise lies in identifying and solving marketing challenges that companies face every day.
Click here to find out more about Liz
Behind the Scenes: The Intern Production Team



Riley Orians – Camera Operator
Cleveland State University
Film & Digital Media Student
Mary Elizabeth Monda – Director
CCM, University of Cincinnati
Electronic Media Student
Matt Waler – Editor & Camera Operator
Ohio University
Integrated Media Student