In this episode Michael Duhr, Graphic design Expert, Web Designer, and Desktop publisher shares The Dangers of Overlooking Graphic Design.
After the tip, we go backstage and learn about Michael's, 15 minutes of fame, Trials of WD-40, How he followed his nightmares, and more!
I'm Michael Duhr and I'm here to talk about the dangers of overlooking graphic design. When I talk about graphic design, I'm really talking about the topography, the layout, the colors, and the logos that make up the branding of a certain company. I know that beauty is in the eye of the beholder, but bad design will stick out to anybody right away.
Nowadays, although you're getting bombarded with so many things, it makes it that much more important to care about your graphic design and your marketing because everyone's seeing so much advertising in their face all the time that it's really a lot harder now than it ever has been to stick out and to have your message stick with your potential customers, or anyone for that matter.
Although your company's still going to be judged on the services you provide, your professionalism, and their overall customer experience, it's very important to make sure that your website and your social media is putting out the right message for your company, because that's what people are going to see way before they call.
Have you ever met with a business owner, and they really know what they're talking about, and you're really impressed with all the knowledge in their respective field, and then they hand you a business card that's very poorly designed, almost like a middle-schooler's art project or something, and it's hard for you in your mind then to not somewhat judge them based upon that because you know they've looked at that then and okay'd that, and thought that that was a great representation of their business, and that's not what you got out of talking with them?
I just think that good design, especially for your website and your business card, is very important to show that you have good taste, and that you have good self-awareness for you and your business, and that you're putting out the right message to your potential clients and others. Don't waste marketing time and energy. Get good designs and be remembered.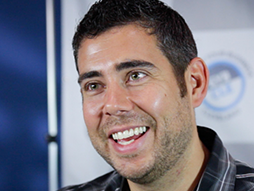 Behind the Scenes: The Intern Production Team



Emily Wagner
University of Dayton
Marketing & Communications Student
Zak Dunaway
Northern Kentucky University
Electronic Media Student
Kaitlin Peffer
Miami University of Ohio
Professional & Creative Writing Student