In this episode Joel Goldstein; Digital Marketing Strategist, President of Public Relations Society of America, Corporate Communications Expert shares Why Entrepreneurs should Never Go It Alone!
After the tip, we go backstage where Joel shares, The Must Have Mindset for Success, Why Technology is Driving Marketing today, The Core Beliefs of Entrepreneurs Worldwide and more!
I'm Joel Goldstein, Goldstein Group Communications, and I'm going to tell you why entrepreneurs should never go it alone.
I'll tell you a secret. There's a lot of days when I wake up and I don't know what the heck I'm doing. I'm an entrepreneur, and I've worked with some of the smartest entrepreneurs that you'd ever want to meet, and when you get them alone in a bar and you're talking to them, they'll, a lot of times, admit the same thing to you, that they just don't know what they're doing. We all need help, coaching, mentoring, advise, suggestions, advisors. Nobody wants to reinvent the wheel. We all want to know. If I've got the same problem that somebody else has already solved before, I'd like to know how other people have solved that.
I started my business 23 years ago, and I was very much a reluctant entrepreneur. I'm in a marketing agency, and when I started out, I thought, "Well, the last thing in the world that Cleveland needs is another PR agency, another marketing agency," but I started out, and I quickly realized that I was going to have a lot of problems, I was going to have a lot of questions, and I needed to turn to people that would be able to help me save some time and avoid making some of the mistakes that other people have made before.
One of the groups that I joined, I joined a variety of different groups, but one of the groups that I joined was a group called Entrepreneurs Organization. The people from this organization are entrepreneurs from all over the world. They're not just from the United States. That's actually one of the things that I like about it the best. I'm able to talk to people from Japan and Singapore and Hong Kong and Europe, and you're able to learn how they solve problems, and it's amazing how similar the problems are that we all face, but the people that I've met and the people that I've learned from are just incredible. It was a tremendously rich learning experience that I've had with these people, and they've helped me so much in running my business and learning how to do the strategies that are going to make my business grow. I've watched them do it, and I've been able to apply those same principles to help my business grow faster than if I had tried to go it alone.
When you think about how to run your business, it's so important to have a strong group of entrepreneurial advisors, people with an entrepreneurial can-do mindset. It reminds me of a quote that I hear a lot. "If you want to go fast, go long. If you want to go far, go together."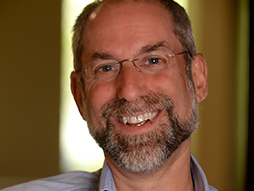 Joel Goldstein
Joel is a seasoned expert in running corporate and marketing communications programs. Goldstein is a recognized expert and frequent speaker on branding and digital marketing strategy.
Click here to find out more about Joel Goldstein
Behind the Scenes: The Intern Production Team



Emily Wagner
University of Dayton
Marketing & Communications Student
Zak Dunaway
Northern Kentucky University
Electronic Media Student
Kaitlin Peffer
Miami University of Ohio
Professional & Creative Writing Student