In this episode John Hornyak; Business owner, Producer, Meeting Coordinator shares Why Less is More in Your Communications!
After the tip, we go backstage where John shares, His smiling dog, His approach to keeping the mind and body sharp, His favorite source for sales and marketing tips, and more.
My name is John Hornyak and the name of my company is X2 Media, and I'm going to talk about why less is more in your communications. One of the things that's the most important these days with the bombardment of information, everybody is using their mobile phones, their tablets, their laptops, everywhere, 24/7. You have to get your message across. You have more competition than you ever had before.
It's imperative that you eliminate all the clutter in your presentations and get down to the basic facts of what's important for your customer, what your value statement is to your customer, to your prospect, or to your audience, and develop that value statement in a way, shape and form and present it in the shortest amount of time possible and whittle down what information is important and what information is not so important. Finally, my advice would be make it easy to see through the clutter.
If you can remember, there was a commercial from Vidal Sassoon and one of their statements at the end of the commercial was, "You don't get a second chance to make a first impression." The same holds true in our business. You don't get a second chance to make a first impression. That is what I try to get across to our clients in terms of refining their message down to a point where they will be remembered.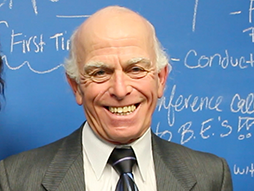 John Hornyak
John Hornyak, video/web producer and meeting coordinator, has handled meetings in Hong Kong, Paris, Mexico, the Bahamas as well as many cities in the United States. He has over 30 years of experience producing presentations and meeting management.
Click here to find out more about John
Behind the Scenes: The Intern Production Team






Olivia Terry
John Carroll University
Communications Student
Meghan Doherty
Ohio University
Media & Social Change Student
Hana Ibrahim
John Carroll University
Professional Writing Student
Sa'diyah Black
Kent State University
Electronic Media Student
Danielle Doss
Notre Dame College
Communications Student
Jesse Brunner
Cleveland State University
Film & Digital Media Student